Peace Days 2022 - "Take action for equality: End Racism, Build Peace"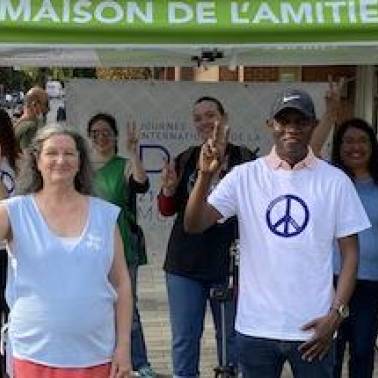 For several years, on September 21st, Initiatives of Change Montreal, in partnership with other peace organizations, has been organizing various activities to promote peace. The Peace Days take place over 12 days, from September 21 to October 2, from the International Day of Peace to the International Day of Non-Violence. The theme for this year is "Take action for equality: End Racism, Build Peace". Every year, at the invitation of the City of Montreal in partnership with the Network for Peace and Social Harmony; personalities from the City of Montreal and representatives of several organizations working for peace meet at the City Hall to celebrate the values ​​of peace and diversity.
This event was also an opportunity for the City of Montreal to recognize the work of Montreal organizations that develop initiatives around promoting peace and living together in harmony. One of the activities "Porteur de parole" (speakers' corner), took place at the exit of the Laurier Subway. This is a strategic area, chosen because it's where many people circulate. The event was accompanied by a musical performance of the artist working for peace Dominique Lebeau (Dom Lebo). Passers-by were invited to respond verbally or in writing to the question "Discrimination and me? Relevant reactions from passers-by of different generations and backgrounds were collected and shared. The day ended with a musical performance of the artist Dom Lebo in the evening at the House of Friendship. Joseph Vumiliya Note: Top right photo of larger group is credited to Michael Abril.