Launch of an International Trustbuilding Program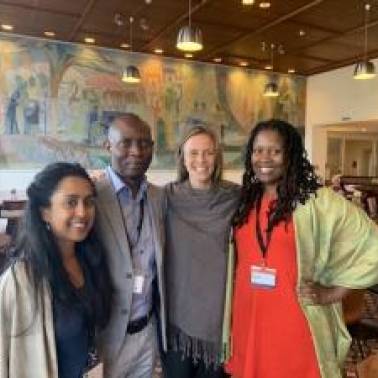 Launch of an International Trustbuilding Program
From left to right: Firyal Mohamed (IofC Canada Board co-chair), Joseph Vumiliya (Quebec Regional Coordinator), Talia Smith (Trustbuilding Project Manager from IofC International) and Shakiyla Smith (Project Officer fromFetzer Institute).
We are pleased to announce that Initiatives of Change (IofC) International, supported by the Fetzer Institute, is launching an International Trustbuilding Program that aims to address divisive issues at the international and national levels.
On August 29, 2019, IofC Canada, one of three pilot countries, entered into a one-year agreement with IofC International to develop a Trustbuilding Program to address the divisiveness of language, culture, immigration, religion and treatment of aboriginal people in Quebec. With this agreement, IofC Canada will receive funding from IofC International to create the Trustbuilding Program in Quebec that will focus on personal transformation, and build a community within a multi-sector engagement approach.
To read more of what's behind this project click here.
And read Rob Corcoran's blog here