NEW WOMEN'S INITIATIVE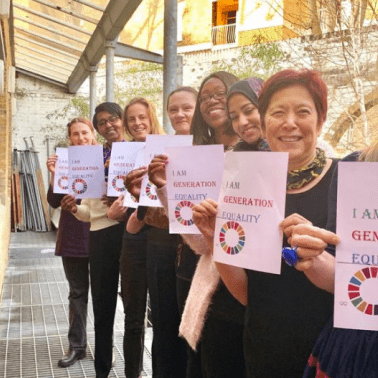 Since spring of 2019, Cecilia (Thembi) Silundika, International Council member, has led informal consultations on a new initiative to support women in the IofC network. Initial consultations began at the Pan Africa Consultation Conference in Lagos, while in London during Women Economic Forum, and most recently during outreach trips to India, Malaysia and Indonesia as part of outreach by the International Council.  
While the initial focus had mainly been to promote women's economic empowerment, the findings from conversations with women seemed to point to a need for something much broader and more encompassing. Thus, the idea of an over-arching service through a Women Empowerment Network (WEN was born). The purpose would be not to reinvent the wheel but to support ongoing activities while building capacity for women leadership and sharing information resources. 
The recent meeting held at IofC UK on 26 February 2020 was an opportunity to share on these developments and to re-engage with the initiative to create an IofC Women's Empowerment Network (WEN). The gathering was also a chance to hear from participants about how they felt the network could be leveraged and what role they could play.   
As a way of putting this initiative into perspective, Thembi spoke on the role of IofC women at the UN Beijing 1995 and a historical video was screened. She informed participants that in 2020 this monumental event would be commemorated around the world. Participants reflected on the perspective of the women in the IofC network and on how for over 25 years women have been engaged in the global discourse of equality and equity for all.   
In an effort to make links with the Sustainable Development Goals (SDG)s, and the UN Beijing Women Conference Action Plan, Tsegga Seyoum Medhin, UN Women USA President and founder of The Pearl Leadership Institute, was the guest speaker. She started the conversation by sharing her experiences, why women are needed achieve UN SDGs and about her ongoing work towards gender equality. She encouraged everyone to consider how the objectives of the Women Empowerment Network can align with the UN SDGs; 4 (access to quality education), 5 (gender equality) and 16 (peace and justice) as a baseline.