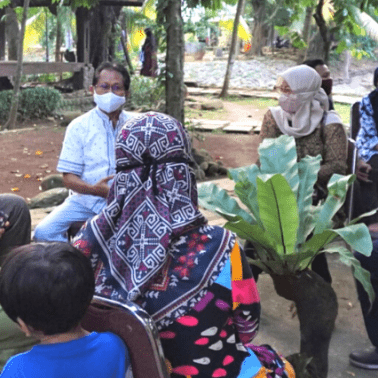 by Manon Michelle Monhemius and Yofrina Octika Gultom
The Indonesian trustbuilding project recently launched with around 100 people joining either in-person or online. How did the launch go? And why is the team's trustbuilding work needed more than ever in Indonesia? 
Why Indonesia is in need of trustbuilding 
Indonesia, the world's largest Muslim-majority country, is facing a wave of intolerance and divides among religions, ethnicities, and social economies. There is violent extremism that threatens young men and women which is incubated at home and inside formal institutions. An extreme form of intolerance is seen in recent past terrorist attacks, like in Makassar, South Sulawesi province, on 28 March (Palm Sunday), where an explosion from a suicide attack outside of a Catholic church wounded many people. Similar incidents have occurred, carried out by sympathizers of ISIL (ISIS). Around 700 Indonesians have joined ISIS in Syria , some of whom have returned to Indonesia.  
Despite these threats, Indonesian democracy has made impressive progress, which needs to be maintained in their national election in 2024. This makes it a strategically relevant moment to put extra energy and time into working with young people to strengthen the mission of living in peace and harmony. 
The focus of the trustbuilding project is in the areas where IofC Indonesia has previously organized trustbuilding activities; in Jakarta, Bandung, Yogyakarta, Jayapura and Makassar. All participants of the previous trustbuilding camps are invited to join the team's trainings to become trustbuilders. The team has worked extensively with both Christians and Muslims in the past, and actively involves people of other faiths as well.