Our First Intergenerational Sharing and Listening Circle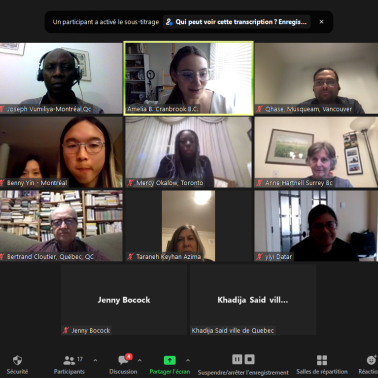 On April 27th we hosted our first Intergenerational Sharing and Listening Circle where the IofC team members, our young adult guest Benny Yin and other IofC community members joined in to learn what the new initiative is all about and hear Benny's sharing on some of his personal learnings of intergenerational relationships as an eighteen-year-old. 
Following introductions, there was a review of the three IofC principals that are at the heart of our work and membership; start with oneself, listen to others and take focused action.  
We heard about Benny's experience and struggle as a young adult with one of his most important intergenerational relationships, the one with his parents. He went on to tell us two stories of scenarios with his father and mother, one about different opinions on post-secondary education and one about conflict with everyday things like where to dry plastic bags in the kitchen to recycle them. Where there was conflict and misunderstanding between Benny and his parents, there was an inspiration for him to seek deeper understanding of why this conflict existed and address it.  
His parents, having different life experiences and opinions, had frustrated him at times when he was experiencing a different reality and perspective. "The next day I reflected on the conflict, and I realized that at the heart of the conflict, I didn't take my mom's complaint seriously" Benny said about the issue with the kitchen garbage bags. During his personal reflection he said he could finally "empathize" with her complaint because he was reminded of a time when he brought up something she did that bothered him and she agreed to make a better effort for him. His stories reminded us that when we take the time to reflect on our intergenerational conflict and its roots, there can be better understanding of another's perspective. Benny spoke about the growth that came from his personal reflection, and we all had time to reflect on how we relate to his stories with our own intergenerational relationships. 
Inner listening time was given to everyone after the stories and we listened to each other's thoughts and convictions, including Benny's mother's and her appreciation for the IofC community supporting young adults in their life journey. 
Hearing the experience of the younger generation and giving them space to share is key to a deeper understanding on how to improve intergenerational relationships. When we hear about how others are applying the core practice of starting with oneself to improve their relationships, it can help us apply it to our own. With the vision to Build Bridges Across Generations, we plan to host future Intergenerational Circles to provide space for intergenerational dialogue, and continuously improve our learnings and facilitation. We thank everyone who attended and supported this first Circle that has proven to be inspirational for many of us.  
"The young can move fast, and the old move slower, but together they can go far" - African Proverb.