Statement on the discovery by the Tk'emlups te Secwepemc First Nation of the remains of 215 children at the site of the Kamloops Residential School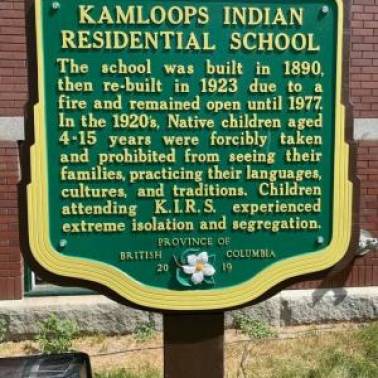 With heartfelt grief and sadness, we at Initiatives of Change (IofC) Canada acknowledge the devastating news of 215 children's bodies discovered at the former Kamloops Residential School grounds.
Apologies from those responsible- governments, churches and agencies- do not go far enough. The 94 calls to action promised as a result of the Truth and Reconciliation process in Canada must be carried out.
We stand in solidarity in urging Senators to pass the Government Bill C-15 which the House of Commons has already passed so that it can become law before Parliament adjourns for the summer. Bill C-15, if adopted, will require the government to review current federal legislation and amend it where required so it is compatible with the UN Declaration on the Rights of Indigenous Peoples. The declaration establishes a framework of minimum standards for the survival, dignity and wellbeing of the Indigenous peoples of the world.
The discovery in Kamloops highlights the urgent need for the Canadian government to provide the financial support for the research and technical equipment required to carry out archeological investigations in collaboration with Indigenous communities on every Indian Residential School grounds.
We acknowledge the pain and suffering of Indigenous friends and colleagues throughout the IofC Canada network. We extend our friendship and support to you and your loved ones as this trauma continues to unfold. We commit to doing our part in this continued journey towards reconciling these wrongs.
We stand with the voices of Indigenous peoples and the First Nations of Canada! Things you can do right now:
Read and share: 94 Calls to Action- Truth & Reconciliation Committee
Act: Write to your elected officials demanding action be taken by the government- see template below for reference
Learn: on whose original land you reside, and how to correctly pronounce these place names.
In respect,
Firyal Mohamed, Chair – Hazelton BC, Gitxsan territory
Lorne Braun, Treasurer  - Richmond BC, Musqueam, Tsawwassen & Kwantlen territory
Qhase Lokhandwala, Director – Vancouver BC, Musqueam territory
Hüstin Lӓkü, Director – Ottawa ON, Algonquin and Mohawk territory
Mangalam Lena, Director – Toronto ON, Anishinabek, Mississauga and Wendake territory
Iman Al-Ghafari, Director- Damascus, Syria