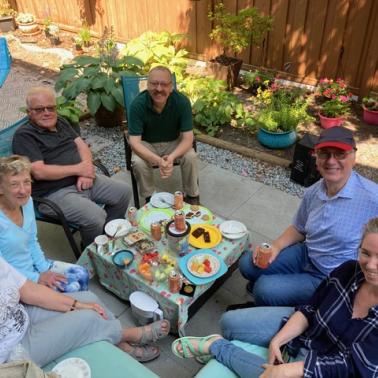 Vancouver Team celebrate an achievement
The Community Award was honouring excellence and inspiring achievement in community service and leadership. Among the 21 recipients receiving the award from Janet Austin, Lieutenant Governor of BC, was Jessie Sutherland, from Richmond, BC. Jessie is a former Caux Scholar and has had a number of roles with Initiatives of Change. She facilitated the event with The Imam and the Pastor at the BC Institute of Justice. She co-facilitated a fund raising dinner in Richmond for IofC. Recently, Jessie also facilitated an Intergenerational Conversation as part of the series of Circles on Indigenous Worldviews  with Lewis Cardinal and his two adult children. She has organized workshops and Dialogues that some of the local IofC team also took part in either in person or via Zoom.
Jessie has developed Belonging Matters  and Intercultural Strategies which have been presented to businesses, seniors groups, workplaces, community centres and more, to bring awareness and change  at the personal level and in the community and workplace.
In June some of Jessies' friends gathered to celebrate her award and reminisce about the many years of friendship and the different ways we had all engaged with her for numerous events - in the photo are Klaus Pfueztner, Hilary Kariotis, former editor of the Canadian IofC newsletter, Lorne Braun, former chair of the IofC Canada Board, Chris and Anne Hartnell, who met Jessie when she was a University student, preparing to go to Caux as a Caux Scholar. Friendships spanning over 20 years.