What will you be doing on Orange Shirt Day?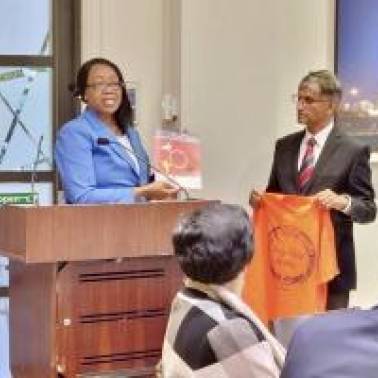 What will you be doing on Orange Shirt Day?
Canadian Initiatives of Change's International Council member, Cecilia Silundika was recently in Liverpool, UK., attending and presenting at different workshops on trust building, healing the wounds of history and ethical and responsible leadership.  The conference was hosted by IofC International President and Vice Chancellor of Liverpool Hope University, Gerald Pillay.
During one presentation, Cecilia Silundika talked about the National Day of Truth and Reconciliation and presented Professor Pillay with an Orange shirt. He will donate the shirt to the Desmond Tutu Centre, in memory of the Canadian residential school children. Former Secretary to the National Sorry Day Committee in Australia John Bond, spoke about his new book 'Sorry and Beyond' on Australia's lost generation and the Sorry Day.
What will you be doing on Orange Shirt Day?  Wear an orange shirt but if that's not possible, wear something orange and take time to reflect on the children and all that Canadians have heard during and since the visit and historic apology of Pope Francis earlier this summer. There will also be many events that we can attend.
Canadians wonder what the future holds in the relationship between Indigenous and non-Indigenous peoples. We have an opportunity, now more than ever, to learn about Indigenous culture and the past. Many Indigenous people say 'until all the truth has been told, reconciliation and forgiveness cannot take place'. Many non-Indigenous people ask 'what can we do?'  The Truth and Reconciliation Commission came out with 94 Calls to Action. We can do what we can to see these fulfilled.
Ellen Gabriel, also known as Katsi'tsakwas, is a Mohawk activist and artist from Kanehsatà:ke Nation – Turtle Clan. Known for her involvement as the official spokesperson, chosen by the People of the Longhouse during the Oka Crisis, she wrote recently in her blog, '…While many have sung the praises of Queen Elizabeth II, those angry at the impacts of colonization by Crown entities have let loose their vitriol on various social media platforms.
In the wake of our colonial experience, anger is understandable. Notwithstanding that, we should recognize that this tone contradicts our ancestral teachings, which uphold the principle of peace as paramount in the way our nation and its peoples comfort themselves in times of consequence. Read the full article The Death of Queen Elizabeth 
Ellen Gabriel's words were encouraging to me and brought new understanding of her culture. In the blog she also said, '….the importance of leaving a legacy of hope and peace, of safety and well-being, of love, respect and strength is paramount to the next seven generations.  We are all role models for younger generations, and the kind of actions we take today will impact those whose faces are not yet born.'
These words were also echoed by Chief Lee Crowchild, former chief of the Tsuut'ina Nation, Alberta, this week. In a Zoom presentation for the Initiatives of Change global Hubfest, he said he always asks himself 'What will my grandsons inherit from me?' This is an important question appropriate for us all to ask, no matter from which background we come.
Joy Newman, Calgary, Alberta
Note:
Initiatives of Change Canada has, over the last year, initiated the series "Circles on Indigenous Worldviews", with indigenous speakers sharing their truth about their past, in order to help bring the understanding and compassion needed to heal the wounds of history. Chief Lee Crowchild was the latest speaker 'Why do we believe what we believe - thinking is thinking, believing is not thinking'!
On October 6, Marie-Émilie Lacroix, an Innu from Mashteuiatch in Quebec, now living on the south shore of Quebec City, will be speaking about the 1990 Oka Crisis in her presentation "Oka: A Crisis or a Resistance of Indigenous People? Why the Oka Crisis? What do We Learn from it?" You can learn more about this presentation and register here.