Trustbuilding Program is wanting to expand and needs your help!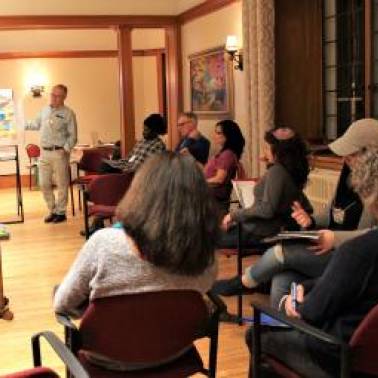 We would like to thank everyone who generously participated in the Trustbuilding Program (TBP) fundraising campaign, launched on June 22.
For those who did not have the opportunity to do so, and who would like to support the project, you can make a donation today. We are happy to announce the extension of the campaign to August 22nd. Please invite your family, friends and colleagues to help the expansion of the Trustbuilding Program!
The Trustbuilding Project, implemented this year in the Province of Quebec, aims to identify the problems of trust underlying our societies, create spaces bringing together all stakeholders, allow them to identify their causes, and explore these questions in depth through honest conversations. Through workshops, conferences and in-depth training, the program provides tools, skills, resources and a network so that change agents from diverse backgrounds can bring their work into their respective communities. In this way, they can help bring about deeper systemic changes through personal and community-focused actions.
The COVID-19 lockdown and physical distancing guidelines required a transfer of the TBP activities online. Several meetings and a workshop have been offered to the 2020 cohort. The team is now assessing possibilities for online and/or face-to-face workshops for the fall, meant for a larger audience. With your help, this can lead to the development of the program on a larger scale across the country. You will also support preparation and financing of the second rendition of the project next year.
If your situation allows, please help Initiatives of Change Canada expand the TBP across the country. Two options are available for donations:
•  By credit card HERE through CanadaHelps, which collects online donations made to Initiatives of Change Canada.
•  By mailing a cheque to Initiatives of Change Canada, 30 Cleary Avenue, Suite 8, Ottawa, ON K2A 4A1. Please specify on your cheque if you want your donation given to the Trustbuilding Program Fund.
Your donation is tax-deductible, and a tax receipt will be issued to you at the end of the year.
Thank you for your support!
Firyal Mohamed
on behalf of the IofC Canada Board