In February, a delegation of Canadians from the Global Indigenous Dialogue were invited to Australia to share their struggle to protect the Treaties made with the Crown.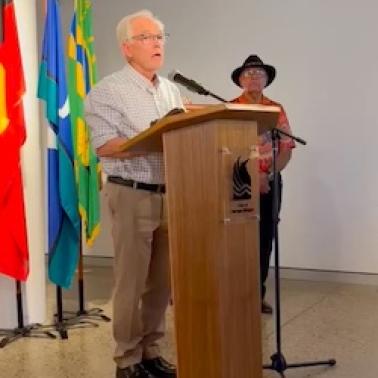 Lewis Cardinal and Rainbow Cardinal, both Woodland Cree from the Sucker Creek Cree First Nation in Northern Alberta, responded to this invitation and brought on board, Chief Lee Crowchild from the Tsuut'ina Nation in Southern Alberta along with Dr. Ian Macnairn from Red Deer, AB and Samantha Myers from Edmonton, AB.The following article by Ron Lawler, an Australian, and former member of the Initiatives of Change International Council, expresses well the visit of members of the Global Indigenous Dialogue (GID) and what it meant to Australians on the eve of their Referendum for a Voice to Parliament later this year. We would like to thank Ron Lawler and IofC Australia for this article and photo.
'It was my privilege to be able to accompany our Canadian friends for the duration of their visit. The timing of their visit was perfect as the referendum on the Voice moved into a higher gear. They brought a depth of spirit and vision that resonated with those they met. They spoke of their own historic struggle to protect their treaties, and as Lewis Cardinal said more than once, to ensure those treaties are about relationship rather than merely transactional. In Canadian First Nations tradition it is about adopting each other in a covenantal way. This resonates with the inclusive way we were welcomed throughout the journey by First Peoples here.
The context of their visit was the Global Indigenous Dialogue - to bring together those who are engaged and with much to share about moving forward inclusively and effectively, both First Peoples and their allies. During this ten day visit to Australia and a brief two days in Aotearoa (New Zealand) the dialogue has started. It will continue in Caux on 17-22 July this year concurrently with the session, "Healing the Wounds of the Past".
Ideas about an ongoing exchange program of young people between Australia and Canada emerged in Wagga Wagga and Sydney. Uncle Hewitt Whyman spoke of it at the Mayoral reception in Wagga Wagga when the local First Nations community came out in force and there was a rich exchange with the Canadians - bush tucker, art exhibition, dancing, and gifts. On the following day the Riverina Medical and Dental Aboriginal Corporation provided a bus and driver to take them to the Tirkandi Inaburra (Learning to Dream) - Boys to Men centre two hours west of Wagga Wagga for a rich exchange with the boys, staff and the Chairperson. It was good to have Margaret Hepworth, IofC Australia's CEO, and Dylan Charles, an Australian First Nation, travelling with us there.
For their last event in Australia, in Brisbane, Uncle Eric and Auntie Shirley Law drove three hours from Cherbourg especially to meet Chief Lee Crowchild in particular because his grandfather visited that Aboriginal community with a delegation of Canadian First Nations Chiefs in 1960 bringing the message of IofC (MRA). Uncle Eric was 12 and his father told him to take notice of the Chiefs because their experience is "just like ours". Chief Lee had visited Cherbourg in 1977. He said that our grandchildren should get to know each other, which may connect to the vision of an exchange program.
Chief Lee Crowchild spoke highly of the quality of engagement of Australian IofC with First Peoples here. I believe this reflected the reality of the encounters they had with First Peoples and their allies from Melbourne to Nhulunbuy. It built on relationships many of us have had walking beside First Peoples and their allies, sometimes over many years.'
Ron Lawler
"We don't meet in the middle of the bridge; we cross over it to each others' side, to meet, talk and understand their perspective" - Lewis Cardinal
"My heart is forever touched…ending with a life changing journey in Arnhem Land was a good medicine…it will take me time to process just how many beautiful people I have met and how they touched my life in many ways you cannot imagine". - Rainbow Cardinal